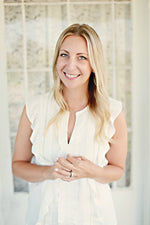 Meet Amber - wife, mama of two sweet boys, maker of the prettiest wood signs & owner of Pink Lemon Decor

. 
Having spent long hours and many years working in a corporate environment, Amber decided to step away from her career to spend more time at home with her family and run her business on the side. She's always been a DIYer, but what started out as a creative outlet for Amber has evolved into a full-time job, which has been great for her (and for all of us who are obsessed with her signs 😍). 
I love the style of Amber's simple, neutral, farmhouse signs, and I love that she has a sign for literally every room in the house. Whether it be the kitchen, family room, bedroom, bathroom, laundry room - you name it, she's got a cute sign for it. Now I just need to work on buying a house so I can hang all of these pretty pieces in my own home 😂🙈🏡 
Amber creates all original designs herself and carefully selects premium materials for each piece. A lot of time and love goes into making each sign, which is evident and so appreciated. When I buy from Amber, I know I'm adding quality pieces to my collection for all of you!  


I had Pink Lemon Decor on my wholesale "wish list" since day one, when I first decided to open Inspired Living Boutique. I could tell from Amber's beautifully curated Instagram feed that she was someone I wanted to work with. Her authentic posts invite us into her world as a wife, mother and entrepreneur, and the way she manages business and mom life is seriously an inspiration to me. It's also very clear that Amber is all about the power of community and is truly grateful for every person who comes out to her markets and orders one of her signs online - just some other reasons why I'm proud to support this amazing female entrepreneur. 
If you're not already following Pink Lemon Decor, make sure you go give Amber a follow now. To check out the pieces I've chosen for my shop, you can click here. And keep reading to find out more about Amber & Pink Lemon Decor!
MEET THE MAKER Q&A
Name: Amber Lee
Location: Bowmanville, ON

Name of business (and where did the name come from?!): Pink Lemon Décor- in a house of boys I needed something girly- hence the pink. But pink lemons actually exist and I loved their simplicity and uniqueness and I just knew that represented my vision for my brand.

Number of years in business: 2.5 years full time but it was my side hustle for many years before.

Description of business: handmade, modern wood signs

Reason for starting business: to fulfill my creative passion

Is it a full-time job or side hustle? Full time and some!

If full-time job, when and how did you make the transition? It happened by accident. I left my full time corporate career to spend more time at home and do Pink Lemon on the side. However it grew organically into something full time very quickly and I have loved every minute of it.

What does a typical day look like to you? Do you have a routine? Yes, I have a 5 day cycle each week working 9-4pm everyday and then markets on the weekends. Each day is dedicated to something specific. It goes by so fast!

How do you juggle entrepreneurship + life? Any advice for finding balance? Schedule everything! I'm not sure I have found the perfect balance however setting working hours definitely helps to keep work & family time separate. Make sure to take breaks too…helps keep you energized and not burnt out!

What do you enjoy doing in your spare time? Anything with the kids, working out, I love gardening!

What does self-care look like to you? I schedule 1 hour everyday for "me" time. It is usually spent working out, or just sitting and having a coffee.

What motivates you to get out of bed each morning? My family

Who do you lean on for support? Definitely my husband!

Are there any resources you wish you had discovered in the earlier stages of your business that you didn't know about but wish you did? A great mentor

Do you have any tips for building your brand? Just be true to yourself. Be the same person online as you are offline. 

What has been your biggest challenge so far? Time…never enough hours in the day. 

Greatest accomplishment? In life- keeping these tiny humans alive! In business- the current growth and success of Pink Lemon. 

Best lesson learned? Be okay saying no, as it will allow you to say yes to something even better!

What does "success" mean to you? It has to make your heart happy. 

Where do you see yourself in the next five years? Expanding Pink Lemon but that is the only teaser ;)

Are there any other female entrepreneurs you admire and look to for advice + inspiration? All of my small shop boss babes! They all inspire me and remind me that this passion goes a long way and is the most rewarding thing!
RAPID FIRE
If you could only eat one food for the rest of your life, what would it be?
blueberries
Favourite word/phrase you find yourself saying on repeat:
exactly
Last book you read (would you read it again??):
Her Art of Surrender 
TV show you're currently binge-watching:
The Haunting of Hill House
One thing you could NEVER live without:
caffeine
Go-to emoji at the moment:
pink heart 
Favourite song you could play over + over + over again:
Incubus- Drive
One thing that makes you smile:
rainbows
Favourite season:
summer
If you could have coffee with anyone, who would it be and why?
Jenna Kutcher- wealth of knowledge!
How would you describe yourself in three words?
Kind, honest, caring
What's your favourite quote?
Be your own kind of beautiful
Coffee or wine?
coffee
Night in or night out?
in
Sunrise or sunset?
sunset
Music or podcasts?
music
Steak or salad?
salad
CONNECT WITH AMBER
Website: 
www.pinklemondecor.com
Social Media: 
www.instagram.com/pink_lemon_decor/


Upcoming Workshops/Markets: 
www.pinklemondecor.com/events